It's Thanksgiving this week in the US, and not surprisingly, it brings to mind the concept of thanks.
Often, being thankful is something we need to intentionally set time aside for. If not, we can get too busy, or it can be too hard to see the good when other things feel so hard, or it can even feel awkward. But it's worth it, and appreciation can help us feel more positive, whether it's in your job search or life in general. 
From our families to yours, we're wishing you a warm, peaceful, and thanks-filled week.
Finally, we can't pass up the opportunity to thank YOU for giving us a chance to help in your job search for remote and flexible jobs! Now is a great time to join FlexJobs, please see below for our biggest savings of the year!
Every week we highlight some interesting Work from Anywhere in the US remote jobs, as well as a couple of Work from Anywhere in the World jobs. They are intended to provide an idea of the variety, quality, and depth of the hand-screened, professional jobs currently listed on our site.
As a non-member, you can go to each employer's site to find these jobs, OR you can subscribe to FlexJobs today for full access to these and 27,000 more hand-screened remote jobs all in one easy place! Don't forget to use promo code FRIDAY to save up to 67% off your membership.
During the season of giving, remember to give yourself the gift of a better job search with unlimited access to our high-quality, hand-screened remote and hybrid jobs database. Take advantage of this limited-time offer by simply getting started with FlexJobs, and be sure to enter promo code FRIDAY at checkout!
One week for only $3.30 – 67% off
One month for only $8.25 – 50% off
3 months for only $19.95 – 50% off
One year for only $29.95 – 50% off
If you know someone who is job searching, you can use this promo code to buy a FlexJobs gift certificate.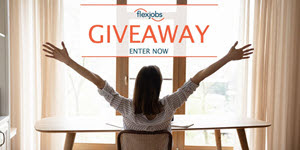 Ready to up your home office game? Lillipad and JLab have partnered with Flexjobs to giveaway an ultimate home office upgrade and makeover! Enter before December 31, 2022 for your chance to win!